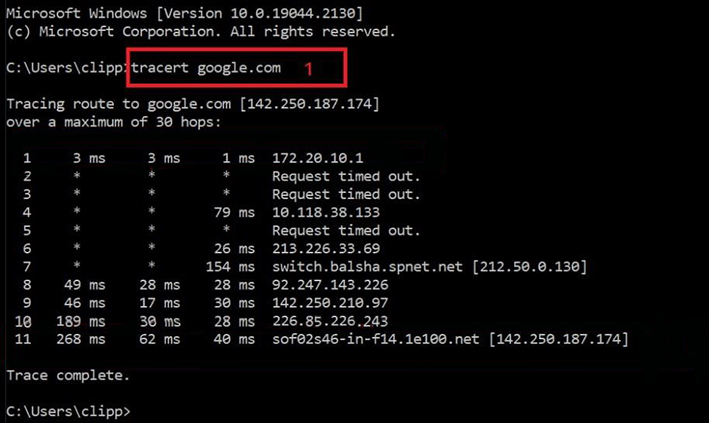 The Windows command is tracert followed by the destination IP / Domain Name. On Linux it is traceroute. The logic in the results is the same, regardless if we are using Linux or Windows. We can use either Domain Name or IP. The DNS is going to translate it.
First is the HOP number. It shows us which HOP are we on in the connection path. The most important thing here is to check the three numbers following it. They show us the RTT (round trip time), meaning how long it takes for the packet to arrive at its destination and return back to our device. The measuring unit is ms (milliseconds). The columns are three because the traceroute sends three messages in total for better consistency. The last column after the three numbers is the device's IP address and domain name on the corresponding HOP. In the middle of the test we can see Request time out but it is not always a cause for trouble. Some devices simply block packets from traceroute or ping (Windows – ICMP / Linux – UDP). The times in the RTT columns are an important thing to observe in this test. If we determine a high latency in the first few HOPS, then it means we could have an issue on the local LAN level. If we find out a high latency level on a certain HOP and it continues with a constant increase, then that could indicate a problem at the point where the increase first began.
In our case 11 is our last HOP, the default tracert is 30 HOPS maximum. If we want to increase the default HOPS we can use the parameter -h followed by the number of HOPS.